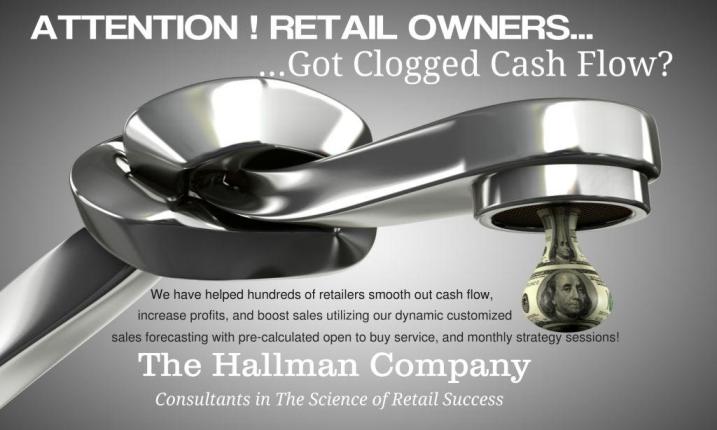 Cash flow problems for many retail owners is a miserable condition. If you are suffering from clogged cash flow, you may feel that the only way out is to sell more, or cut expenses, or reduce excessive markdowns. 
We understand how you feel. Many of our current clients felt the same way at first. But what they discovered after we reviewed their store performance was that taking only those actions was actually making matters worse.
They began to follow our recommendations as we implemented the science of retail success in the business. They soon realized that they were actually missing the needed insights and tools to solve the underlying practices which caused the problem in the first place.
Once we made the needed adjustments, the cash began flowing much more freely!
You see,only  promoting for more sales can be just another expense you have to squeeze out of your meager cash flow. First, you may be discounting, or marking down merchandise to bring customers in- that means you are getting fewer dollars per item. Then, there is the direct cost of letting them know about the specially discounted offer(s). Whether you buy more media, or hire talent to boost social media exposure- it all takes money!
We are not saying you won't have to do any of that, initially. But the problem is, if you don't have the entire picture, you can easily be in a non-ending cycle of markdowns, promotions, advertising- sending money out for a temporary fix to a recurring problem. Eventually, you may arrive at a place where you just can't do it any more. You may feel hopeless, and you may give up altogether, salvaging what you can on the way out.
There is a better way!
For a limited time, we are offering to analyze your business at no charge. If we can not find the core problem and show you how it should be resolved- with or without us- you have lost nothing. However, the reason we are doing this, is we know that 99% of the time we CAN find the underlying problem, and we can explain it to you.
We also know that, though there is no commitment on your part, more than 70% of the retailers who undergo this evaluation, choose to have us help them fix it. But they will tell you, we never pressured them to do anything but act- with or without us.
Don't lose out on this no risk offer. Act today by filling out the form on our CONTACT US page.  In the "Notes" area, just write "free analysis".
Remember, Contact Us today!